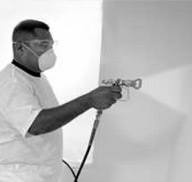 Cost effective, intumescent paint solutions
30, 60, and 90 minute fire rated paint systems
Tested in Australia to the most recent Australian standards
Custom solutions developed and tested to meet clients' needs
Experienced approved applicators
Quality controlled process
Approval by Councils and/or certifiers across Australia
Thin film water based low VOC fire rated coatings
Industry first RFID information management system
CAP FIRE RESISTANT COATINGS
The next generation of intumescent paint and passive fire protection technology. CAP intumescent paint systems deliver cost effective, tested and approved non destructive fire rated coating solutions. CAP Coatings Intumescent Paint (also known as intumescent coating, fire paint, fire rated paint, fire retardant paint, fire proof paint) expands into an insulating char up to 50mm thick during a fire situation, protecting the underlying substrate beneath.
Designed primarily to fire rate ceilings and walls CAP fire resistant coatings are suitable for most interiors and selected exteriors, with approved top coats, CAP Coatings deliver a paint quality finish in your choice of colour. Quick to apply, low VOC, fast drying water-based technology makes for easy application, clean up and low impact on the environment with minimal disruption to businesses or residents. Retain existing surfaces without the need to replace with fire rated linings.
CAP Coatings' product tests are conducted at internationally recognised facilities including CSIRO's fire test laboratory at North Ryde in Sydney. Class leading test results on a variety of substrates to Australian standards such as AS1530.4, AS3837 and AS1530.3 combined with approved applicators, thin film high quality finishes and the industry first CAPMark information and quality control system, has seen CAP Coatings solutions specified on a wide variety of projects across Australia. CAP helps to save lives and protect property.